USA Today and other outlets report that "Norwegian Cruise Line Holdings Ltd. is extending its sailing suspension through July 31, with ships now scheduled to resume embarkations in August." The impact of Coronavirus (COVID-19) has taken it's toll on the company and the cruise ship industry as whole.
Per the article, Norwegian Cruise Line extends sailing suspension; ships won't sail until August, CEO Frank Del Rio "estimated full resumption of operations could take up to six months across Norwegian Cruise Line Holdings' 28 ships, which are spread across its three brands: flagship Norwegian Cruise Line, Oceania Cruises and Regent Seven Seas Cruises."
The cruise line's stock prices dipped to below $10 a share in March after the cruise line was stopped from sailing from the Centers for Disease Control and Prevention (CDC). The stock price was nearly $60 a share in January 2020. It's currently around $14 a share. Like other cruise lines, Norwegian is struggling to stay afloat and recently laid off large a percentage of it's workforce.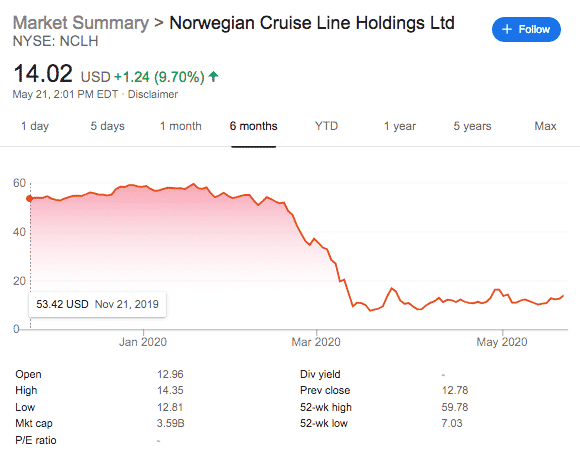 Will you cruise with Norwegian again? Do you feel comforted by Norwegian's Peace of Mind promise to keep your next cruise safe?
At Waks and Barnett, aka, CruiseLawyers.com, we've been speaking with both crewmembers and passengers from Norwegian cruises who are victims of cruise ship accidents or who have been impacted by Coronavirus. If you want to speak with an attorney, we're here to help. Our contact information is: 1-866-710-6695. Call today for a free review of your claim.