Royal Caribbean Flowrider Accidents
You can Sue for FlowRider Accidents
Were you hurt while riding the FlowRider? Do you need a FlowRider Accident Lawyer? The FlowRider, one of Royal Caribbean Cruise Lines most popular on-board activities, is a "surfing simulator" – riders can enjoy machine made waves while surfing or boogie boarding. It can be an enjoyable activity for a passenger longing to 'ride the waves' or experience the thrill of surfing if they've never done it before. And crowds love it – other passengers gather around to see the surfing and the inevitable falls.
The Royal Caribbean FlowRider is 'must-see' – like watching NASCAR races to see the collisions and wrecks. Other passengers crowd around the machine know that they're likely to see people falling, often with much gusto. The entertainment level is high. And while the ride certainly can be exciting for many passengers who attempt it, there is a substantial risk of getting hurt in a FlowRider accident.
Were you hurt while riding the FlowRider?
For well over a decade, there have been many documented cases of both minor and major passenger injuries related to FlowRider accidents – cuts, broken wrists and ankles, head trauma and concussions, ripped toe nails and more. There was even on death attributed to the FlowRider on a Royal Caribbean cruise when a passenger fell, breaking his neck and died.
If you were hurt during a FlowRider session and believe the supervising crewmembers or Royal Caribbean was negligent in any way, you should talk to a FlowRider accident lawyer. A free phone call with an attorney can help you understand if you do – or don't – have a case. But don't wait. Injury claims on Royal Caribbean need to be filed with the cruise line within 6 months of the accident.
Do you need a FlowRider accident lawyer?
This may be the question that victims of FlowRider injuries first ask themselves. Is Royal Caribbean liable for my accident? Were their employees negligent in their actions? Do I need to hire a FlowRider injury lawyer? These are not uncommon questions.
If you have been injured while riding the FlowRider on a Royal Caribbean cruise vacation, it is extremely important to contact one of our attorneys immediately. Royal Caribbean, like Carnival, Norwegian and other cruise lines are a large companies that employ teams of attorneys whose only job is to defend claims from passengers.
Did you sign the FlowRider waiver?
First and foremost, Royal Caribbean's attorneys will want to defend themselves by pointing out that you would have signed a Waiver prior to riding the FlowRider (a document known as the Onboard Activity Waiver Express Assumption of Risk — Waiver Release of Liability). These waivers are designed and written to protect the cruise line – not the passenger. The waivers can protect the cruise line from injury lawsuits and the payout of compensation to hurt passengers. In fact, some injury claims have been dismissed as courts have upheld these waiver which have limited liability for the cruise line. That being said, our experienced attorneys know how to deal with Royal Caribbean and what protections passengers deserve even if they have signed a waiver.
Free Case Review
Contact Us Today - Hablamos Espanol
(305) 271-8282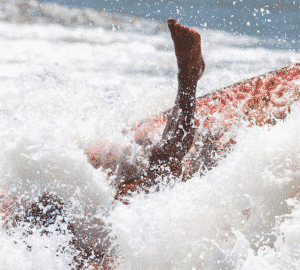 Royal Caribbean Could be LIable for your injuries
Be compensated By Royal Caribbean after your FlowRider accident for:
Hospital visits, surgery and doctor bills
Prescriptions and medications
Physical therapy and rehab
Lost pay and wages
Pain and suffering
Loss of future earnings
Long-term or lifelong disability
Call today for a free injury claim assessment at 1-305-271-8282.
Is the FlowRider dangerous or safe for passengers?
Broken ankles. Cracked ribs. Concussions and head injuries. None of those sound enjoyable if you or your children are on a cruise vacation, yet Royal Caribbean markets the FlowRider as perfectly safe if riders stay within their limitations of surfing experience.
As stated on the Royal Caribbean website, "only Royal Caribbean gives you the chance to catch a wave right onboard. Grab a board and hang ten on our 40-foot-long surf simulator, or cheer on friends from stadium seating with prime wipeout views."
Obviously, most passengers have very little – if any – surfing experience. Passengers who have posted their experiences on website forums and social media about riding the FlowRider will tell you that very little instruction is given before you're allowed onto the surfboard or body board.
A quick Google search shows videos of people falling while riding the FlowRider. And while these falls may be part of the 'entertainment factor' of the ride, a serious accident and subsequent injuries are simply not fun.
To go from zero experience surfing to trying to ride a fast moving, machine created wave is very likely to end up with the result of a nasty fall – a fall that could lead to a passenger being hurt.
Is the FlowRider safe for passengers? There are certainly some inherent dangers of a machine that produces waves. People will fall. Sometimes those falls will lead to injuries. And the reality is that many of these accidents are quite serious and can lead to permanent injury with lifelong consequences.
The concern our attorneys have regarding injuries are this: was the injury a simple accident or was there a reason for the injury?
Did the ride malfunction? Were instructors or crew members not present or not doing their job correctly? Was the surfboard or boogie board broken or improperly maintained? There could be any number of reasons why a FlowRider accident occurred, many of which could be related to negligence on part of the cruise line or its employees.
Passengers are asked to sign an Onboard Activities Waiver before riding the FlowRider. This is Royal Caribbean's approach to getting the passenger to accept any risk of accident as their own responsibility – and we don't believe they are always valid.
Royal Caribbean can still be held liable for your injuries, especially if it can be proven that it was due to lack of standard maintenance, crewmember negligence, crewmembers failing to recognize any potential dangers or failure to seek assistance or take action after an injury.
Our lawyers can investigate the accident on your behalf. We will review CCTV cameras, witness statements, inspection reports, accident reports and other details.
What happens if I was in a serious FlowRider accident?
If you were hurt in a FlowRider accident, you should first seek medical attention for your injuries. Beyond that, it's important to document the accident. The crew should write up an accident report. But importantly, writing down details from your perspective is very important. Be sure to write down why you think the accident happened, who was present, what injuries you sustained and the names and contact information of any witnesses. Did anyone take video of the FlowRider accident? Were pictures taken?
If you believe the accident occurred because the cruise line or the crew members did something wrong – or something was wrong with the FlowRider – it would be a good idea to speak with a lawyer. Even minor injuries could lead to hospital visits, medical bills and lost time at work. If the cruise line was responsible for your injury, you may have the ability to file an injury claim or sue the cruise line. Speaking with a lawyer can help you determine whether your FlowRider accident claim is valid. They can explain to you what the 'next steps' are and how you should proceed if filing an injury claim.
What if I signed the Royal Caribbean liability waiver?
Royal Caribbean will require you to sign their liability waiver prior to participating in some shipboard activities, including the FlowRider. Because all injury claims are different, it's important to note that the waiver may or may not be valid depending on the details of your accident. It's best to speak with an injury lawyer who has specific experience with FlowRider or Royal Caribbean lawsuits. Our attorneys can help you understand what happens if you did sign the waiver and how that may impact your case if you plan to file an injury claim.
Our lawyers can investigate the accident on your behalf. We will review CCTV cameras, witness statements, inspection reports, accident reports and other details. We also have a deep understanding of past FlowRider accidents and injury claims that either our firm has handled or have been handled by other firms. This knowledge is extremely helpful in building your case. Remember – Royal Caribbean has faced hundreds of FlowRider injury claims for at least the past 10 years. There is a history of passenger accidents that have occurred.
When do I need to file an injury claims for my FlowRider accident?
Injury claims filed against Royal Caribbean must be done so within 6 months of the accident. And lawsuits brought against the cruise line must be done so within 1 year. Importantly, these claims must be filed in Florida's Miami-Dade County, specifically in the United States District Court for the Southern District of Florida. Read Royal Caribbean's Ticket Contract here. This ticket contract is the document you signed before being allowed to board your cruise and it is likely it was signed without much thought. However, the terms and conditions of this contract were written to protect Royal Caribbean against liability for passenger claims. See the first lines of the ticket contract below.
YOUR CRUISE/CRUISETOUR TICKET CONTRACT CONTAINS IMPORTANT LIMITATIONS ON THE RIGHTS OF PASSENGERS. IT IS IMPORTANT THAT YOU CAREFULLY READ ALL TERMS OF THIS CONTRACT. 
 YOU ARE ESPECIALLY DIRECTED TO CAREFULLY READ AND UNDERSTAND SECTIONS 3, AND 10 THROUGH 12, AS THEY CONTAIN SIGNIFICANT LIMITATIONS ON YOUR RIGHTS TO ASSERT CLAIMS FOR PERSONAL INJURIES, ILLNESS OR DEATH, AND BAGGAGE AND PERSONAL PROPERTY LOSS OR DAMAGE, AGAINST CARRIER, THE VESSEL, RELATED ENTITIES AND THEIR OFFICERS, AGENTS AND EMPLOYEES, INCLUDING TIME LIMITS AND FORUM FOR CLAIMS AND SUITS, APPLICABLE LAW, ARBITRATION, AND WAIVER OF JURY TRIAL, CLASS ACTIONS AND IN REM PROCEEDINGS.
As the ticket contract states, SHALL BE LITIGATED, IF AT ALL, IN AND BEFORE THE UNITED STATES DISTRICT COURT FOR THE SOUTHERN DISTRICT OF FLORIDA LOCATED IN MIAMI-DADE COUNTY, FLORIDA. That means that if you live outside of Miami, Florida you will still have to file your injury claims there. These terms have been dictated by Royal Caribbean and upheld in various lawsuits over the years. 
This means that even if you live in North Carolina, departed from Galveston, Texas on your Royal Caribbean cruise and were hurt on the FlowRider while in the middle of the Caribbean Ocean, your injury claim will still need to be filed in a Federal Court in Miami, FL. This can be very confusing to FlowRider victims and why working with an experienced Miami-based cruise ship lawyer can benefit you.
What is the average settlement for FlowRider accidents?
If you've sustained a severe injury due to a FlowRider malfunction or negligence by a Royal Caribbean crewmember or member of their medical staff, you may be wondering what kind of settlement you might expect from the cruise line.
First, your injury claims will need to be documented and proven before the opportunity for settlement can occur. And, not all injuries will lead to a settlement or a 'win' for the injured passenger. Remember that all FlowRider accident claims are different. The specific details and circumstances related to your accident will impact the amount of settlement or compensation you may be eligible for if it can be proven that Royal Caribbean was responsible for your injuries. FlowRider injury claims will generally range from tens of thousands of dollars to hundreds of thousands of dollars depending on the extent of your injuries and other factors.
Cruise ship lawyers for FlowRider injury claims
If you were hurt in a cruise ship accident – whether on a FlowRider Machine or in some other way – and need help getting compensation for your injuries, you need a law firm with 35 years of proven success representing thousands of passengers who have been seriously injured, hurt or medically impaired in accidents while on a cruise vacation.
You need the cruise ship injury law firm of Waks and Barnett, P.A. We understand the pain and frustration our clients are going through. Our goal is to take that weight from you and provide you the trusted, legal representation you need…and the outcome you deserve! Our Promise To You: We fight the cruise lines, their legal department and their claim departments to help you and your family receive fair compensation for your injuries, your medical bills and your wages for lost time at work. Call Today to Get a Free Case Review: 1-305-271-8282.
Call us today at 1-305-271-8282 or click here to contact us by email for your Free Case Review.
frequently asked questions
Thank your for considering our law firm. We're here to help you and can answer any questions you may have.