The Coronavirus, now renamed COVID-19, has impacted the cruise ship injury and its worldwide passengers.
Numerous travel schedules have been cancelled or rerouted. Princess Cruise's Diamond Princess remains quarantined in Japan with over 175 confirmed cases. And Holland America's MS Westerdam has finally been able to dock after multiple countries would not allow the ship to make port for fear its passengers would spread the virus. Thousands of passengers have been affected either directly or indirectly due to the outbreak.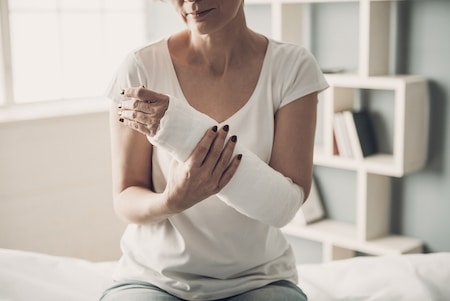 And while the virus outbreak is serious, it's important to note that other passengers around the world are dealing with personal injuries they've suffered in cruise ship accidents – most commonly trip and fall scenarios that lead to passengers breaking fingers, arms, wrists and collar bones.
These arm fractures are so common and occur with such frequency that our office in Miami continually fields calls from concerned passengers who just want to know what their legal rights are after an accident on a cruise ship.
This is especially true when a passenger believes that their spill, or tumble or fall was the result of negligence on the part of the cruise line or its employees – a freshly mopped floor was not cordoned off or a tear in the hallway carpeting left a seam where the toe of a shoe could be caught.
Should you hire a cruise ship accident lawyer?
Even seemingly simple wrist fractures can lead to high priced medical bills – doctor visits, surgery, rehab, inability to work and more. For passengers who are older or passengers who work with their hands for a living, even these "simple" accidents can have long ranging consequences, many of which are hard to foresee in the first few weeks after the injury.
So passengers call our cruise injury lawyers to see what options they have. Can they sue the cruise line for compensation? Will the cruise lines like Carnival or Royal Caribbean just brush them aside, or will they pay for medical bills? How do they actually file and injury claim, a lawsuit or work toward a successful settlement?
Cruise lines can be accountable for their mistakes.
With 28 million people cruising each year around the globe, accidents are bound to happen. Cruise ships are essentially "floating cities" and accident occur on them just like they would in your hometown. Sometimes those accidents are simply "just accidents" – and sometimes the accident is the result of actions (or inaction) of the cruise line. And if that's the case, our injury lawyers will thoroughly investigate to determine who was at fault. If it was the cruise line, then "yes", they can be held accountable.
And while many passengers affected by Coronavirus may also want to determine their legal rights if they were directly impacted – especially if they contracted the virus because the cruise line made poor decisions – most people contacting a cruise ship attorney with questions will be people with more common injuries.
Note: It's important to point out that even "simple" injuries like broken bones in the arm can be extremely painful. Compound fractures are complex breaks and can easily lead to infections or permanent injury if not properly addressed immediately, both while on the ship and immediately after the passenger arrives back in the cruise ship's home port or the passengers home town.
Get help today.
For more information, or to discuss an injury you've sustained on a cruise ship, please call our attorneys today. 1-800-905-2891.